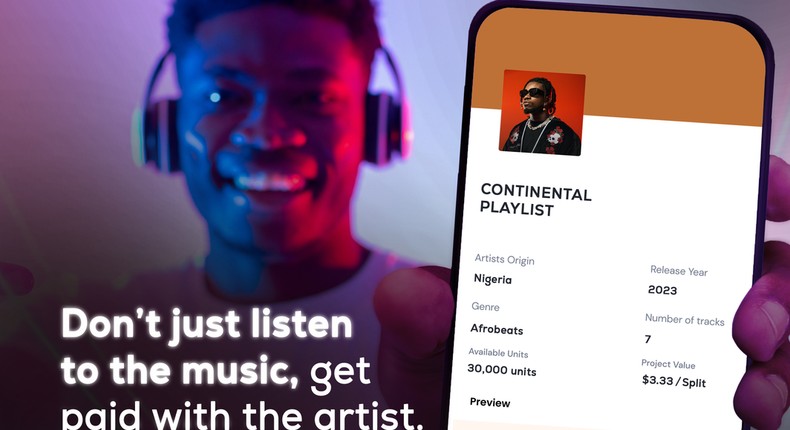 ARTSPLIT, the pioneering alternative investment platform has launched MusicSplit, its latest offering that allows for investment in music projects. Its maiden online auction features Continental Playlist of top Nigerian Music Star, King Perry and kicks off the app from 24 January to 10 February 2023.
MusicSplit allows music lovers own fractions of any trending Afrobeat music and earn monthly royalties to their ARTSPLIT wallet. Users on ARTSPLIT now have access to previously unavailable royalty assets when you buy splits and invest in your favorite Artistes' upcoming projects. It's a win for all; your Fav gets the required funding to create great music for your enjoyment and you earn passive income and high-yielding returns from the projects streaming revenues.
In a statement, ARTSPLIT's executive director for technology and communications, Onyinye Anyaegbu, said. "Our goal has always been to provide a platform that democratises access to investment in African art and artistes through co-ownership and technology while elevating their global standing. Too often, ideas are not appropriately valued, such as music. With MusicSplit, creators can offer a percentage of their upcoming projects for users to invest in and directly fund it. Users on the ARTSPLIT app benefit from access to a high-yielding asset class while artists benefit from debt-free funding while maintaining artistic freedom. As a result, we have moved closer to our goal of providing alternative investments opportunities for everyone."
King Perryy stands out as one of the country's most distinctive and ambitious young acts. The creator of what he calls the "Continental Sound," the former seminary student and would-be Catholic priest fuses the melodies and rhythms of today's Afrobeats with pan-African influences and reggae/dancehall to create deeply resonant songs that transcend cultures and borders. With a run of successful singles ("Man on Duty," "Work 'N' Grind") to his credit and over 70 million streams on digital platforms, he released his debut album, Citizen of the World, in 2021.
This Auction comes shortly after a tripartite agreement between ARTSPLIT and music service companies M.A.D Solutions and ENGAGE to enable fans invest in the success of their favourite musicians.
MUSICSPLIT involves taking the estimated value of a music project (Eps, LPs, and Albums) and dividing it into 100,000 units (or Splits) to allow users and music lovers to finance it and profit from their investments. By presenting MUSICSPLIT, ARTSPLIT intends to further elevate African music worldwide while ensuring artistes freedom with alternative investment options.
You can also reach the ARTSPLIT team on call or WhatsApp at +234(0)9088962169 or follow @artsplitofficial on Twitter, Instagram, and Facebook to keep up to date. Also follow King Perry @kingperry on Twitter, Instagram, and Facebook.
The ARTSPLIT app can be downloaded on App Store and Google Play Store. Start investing today in Afrobeat for great returns.
#FeaturedPost #FeatureByARTSPLIT