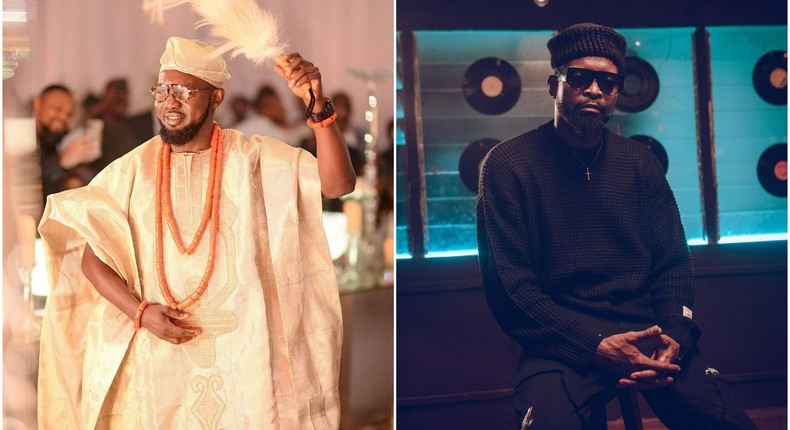 Nigerian comedian Ayo Makun popularly known as AY has for the first time spoken about his frosty relationship with his colleague, Basketmouth.
The comedian made this known during a question and answer session with his fans on Instagram.
"Do you really have issues with Basketmouth?" one of the fans asked.
In his response, the father of two said Basketmouth has been battling with his "uncontrollable superiority complex" for a while.
"I don't have issues with him. But people having unnecessary issues with you is the price you sometimes pay for being progressive," he replied.
"He has been battling with his "uncontrollable superiority complex" for the longest. So avoiding his incessant childishness only became necessary for my sanity."
When asked if they still talk to each other, the comedian gave an indirect response.
"We only talk to those who want to talk to us. Does this make sense," he replied.
It is no news that Nigeria's bubbling comedy industry is marred with cliques and rivalry.
In 2021, during a chat with Ebuka Obi-Uchendu, comedian Bovi revealed how his relationship with AY Makun nose-dived.
"It's not because of anything but if you have a way you operate and it is not in sync with the way I operate and if that offends my spirit, I'll just stay away. I'm sure some people don't like me and that's cool. Even in the church, there is friction," he said.
When asked how his relationship with colleague AY Makun went sour, the father of three said he thinks they just grew apart.
"I think we just grew apart. I like to do my own thing my own way and if your style is different from my style we just grow apart basically but we cool. When I see him I say what's up," he said.
Ebuka asked the comedian to clarify the belief in some quarters that comedians in Nigeria aren't actually united.
"I don't know…personally I don't think everybody can like each other but one thing I know is they don't necessarily hate each other. It is a tricky situation. As regards the shows, in the beginning, I use to do everybody's show but now I want to do it the way it is internationally accepted,'' he said.