According to reports, he formed a WhatsApp group and invited bloggers and others to join, sharing the videos there.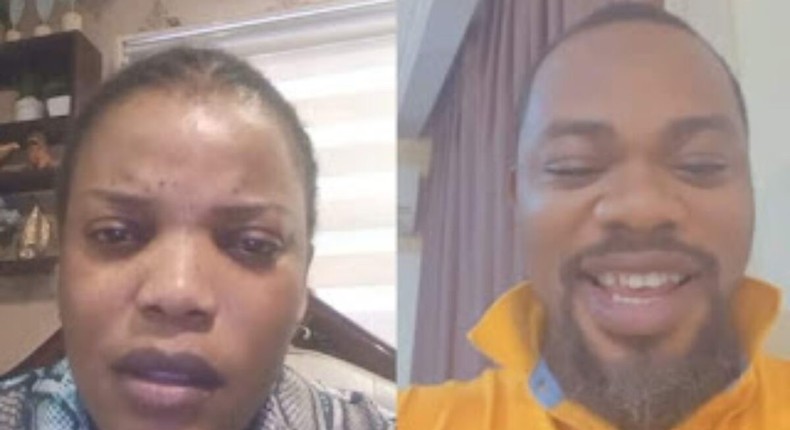 The actor's guild of Nigeria has called for the arrest of George Wade, the ex-lover of Nollywood actress Empress Njamah, for leaking the actress' nude videos to the public.
The actress has been in the news over news that her ex-lover was blackmailing and threatening to release her sex videos.
In a statement on Thursday by Kate Henshaw, the AGN's director of communications, the guild called on security operatives to arrest Wade, adding that the act was a serious offense.
The statement reads, "This act of blackmail calculated to smear the image and publicly ridicule her by a man who claimed to be her lover is not only criminal but also evil and unacceptable. It is worthy to note that exposing nude videos and photographs of a person that injure her right to privacy is a serious offence."
Kate read that the guild will provide full support to the actress in order to aid her emotional and psychological recovery, and she finally requested the assistance of security personnel in locating Wade.
she said, "Actors Guild of Nigeria stands with Empress Njamah on this and shall provide full support in areas of counselling to help her recover from the psychological and emotional trauma she is currently passing through."
she added, "We have been in forefront of campaign of violence against women and we view the action of this so-called evil lover man as an act targeted at eroding her dignity and self-respect. We call on the law enforcement agents to apprehend the culprit and ensure he faces the full wrath of the law for violating the right and dignity of Empress Njamah."
Empress Njamah and George Wade: All the updates you need to have
Congratulatory messages filled the comment section until the news broke that Njamah was not the one in charge of the account, which has been taken over by her ex-fiance, a Liberian man identified as Josh Wade.
In a statement via Instagram, the 42-year-old said the engagement was a scam and the video was made under duress.
She said they started dating around the time her best friend Ada Ameh died, and he took advantage of her, and promised to marry her, but ended up beating her and blackmailing her for money.
Wade later shared his side of the story in a leaked chat with Linda Ikeji; he denied blackmailing the actress, saying that he only asked her to return the money he borrowed from her.
He claimed Njamah's Ex-lover was blackmailing and threatening to release her sex videos and she has been taking money from him to pay the blackmailer
He said: "This guy was blackmailing her and I never knew about it, she was draining all these time I asked her what's going on she could not explain to me until I was able to go through all her social media like her WhatsApp and go through her messages with him and I got to know this guy had a sex video of hers, not just one not just two.
"So all along the money she's been taking from our business, the money she's been asking people for she has been giving it to this guy and I didn't know. So after I traced the former boyfriend guy, I was able to meet him, crush his phone, crush it everywhere, get the videos, and then I left."
"This is my fiancee, and this is someone I was supposed to be getting married to in February. So on getting home, I asked her, demanding the truth, but she still wanted to deny it till I showed her the video. So she still denied it, then I got angry and slapped her and she used the opportunity to run from the house."
Explaining why he withheld her passport, Wade said he did not want Empress to flee the country because she owed him money.
On January 2…Wade releases Njamah's nude videos, says he misses her though
Wade's internet release of Njamah's private videos, including benign ones of her taking a bath, quickly gained notoriety. According to reports, he formed a WhatsApp group and invited bloggers and others to join, sharing the footage there.
Later, in another video, the man warned her against telling people that he hadn't been able to travel while admitting that he missed her.
"I am just confused. I swear to God, I just miss you. Seriously, I just miss you. That's the real truth; that's no joke. But please, stop telling people that I can't travel. Don't do that, I beg you, please," Wade said in the video.
Njamah's reaction to the leak
In her first comment since the news of her leaked nude video broke, Njamah said in response to the leaked videos that she is alive and OK.
She said, "love you guys, I'm good, Thank you, guys, for all the love, support, messages and visits. I'm alive, I came out alive, and I'm able to speak out, so many women are hiding under this torture, this torment, last-last, we move. I'm excited about my freedom."
The actress thanked her supporters in a popular video and reassured them that she was okay and still alive.