FG says aviation workers had other avenues to express their demands.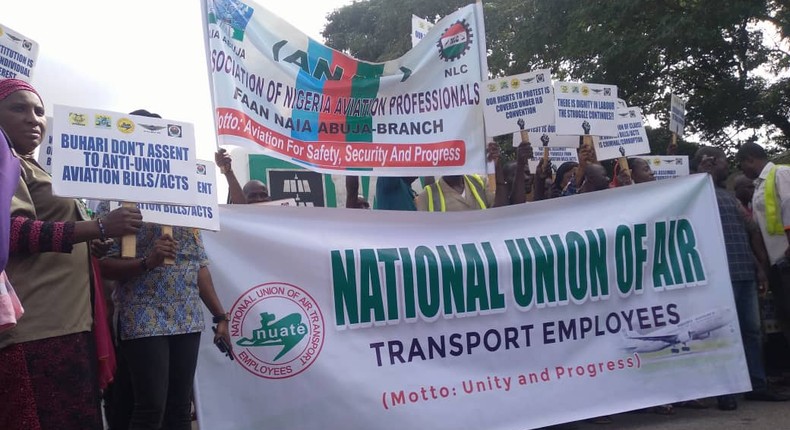 Following the industrial action by aviation workers on Monday, January 23, 2023, the Federal Government is planning to ban aviation workers from down tooling.
Aviation workers under the aegis of the National Union of Air Transport Employees, and the Air Transport Services Senior Staff Association of Nigeria had earlier in the week declared an indefinite strike action over poor pay.
The development disrupted local and international flight operations as all flights were canceled on Monday.
On Wednesday, January 24, 2023, after the suspension of the strike, the Federal Government apologised to air travellers over the industrial action.
However, in a bid to forestall a recurrence, the Minister of Aviation, Hadi Sirika while addressing State House Correspondents said the government would enforce a law that would prevent aviation workers from embarking on strike because aviation is an essential service.
He said, "This is very important to the travelling public. First, we apologise to them; our teeming passengers in this difficult moment.
"Second, this will not happen in the future by the grace of God. And the reason is simple; aviation is an essential service. The Act has been assented to by Mr. President, so strikes and riots around our airports are prohibited by the laws of the land.
"Now that we have the Act in place and assented to by Mr President and passed by the National Assembly, we will deal with it according to the law."
The minister described the industrial action as "wrong, inhumane and against the law". According to him, aviation workers had other avenues to express their demands.
He said, "We will ensure no essential service is being disrupted by anybody no matter how aggrieved. There are other channels of channeling issues when they arise but they are not permitted to go on strike because aviation is an essential service and is by the law of the land now.
"I will give you an example, there was an airline that had to return to base because it couldn't land. Imagine if there was a patient on that aircraft. Imagine somebody attending to a very serious issue or matter at hand or business or a student trying to catch up with an exam and then because of somebody who is aggrieved some other person will die.
"Government will no longer allow that. So it's in the law of the land, check the Civil Aviation Act, it's been assented to and it's going to take place soon, in fact now, from today we will not allow that.
He, therefore, urged the workers to desist from disrupting flight operations as a means of pressing home their demands. He added that the government was open to listening to any grievances.