Enjoy:
Professional Study and Career Counselling
Diverse Study Destinations
Post Study Work Opportunities
Free Application Process
Free Study Visa Guidance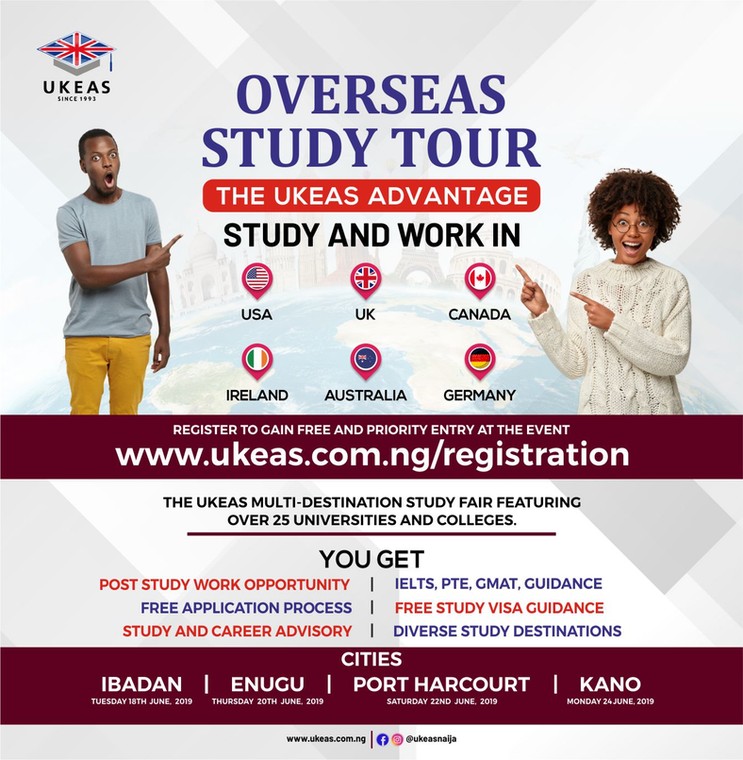 Get information about studying abroad right in your city!!

Details:
Ibadan | Tuesday 18th June, 2019
Time: 11am – 4pm
Jogor Centre, 1 Harvester Drive, Liberty Road, Ibadan.
Tel: 08116709987
Enugu | Thursday 20th June, 2019
Time: 11am – 4pm
Destiny Life in Grace Event Hall, Ranger Avenue, Independence Layout, Enugu.
Tel: 08074235705
Port-Harcourt | Saturday 22nd June, 2019
Time: 11am – 4pm
Hotel Presidential, Aba Road, GRA Phase 2, River State.
Tel: 08116709992
Kano | Monday 24 June, 2019
Time: 11am – 4pm
Tahir Guest Palace, 4 Ibrahim Natsugune Road, Nassarawa GRA, Kano.
Tel: 08166575768
KUMASI:
Thursday 27th June 2019.
Time: 11am – 4pm
Miklin Hotel, Major Kobbina Drive, Danyame, Kumasi.
Tel: 0553173346 / 0501181045.
Register for FREE to Save a Premium Spot.
https://www.ukeas.com.ng/registration/registration-form.php?s=2335
This is a featured post
Get real time update about this post categories directly on your device, subscribe now.