We need to talk about David Warner. What a story – boy from the wrong sides of the tracks, proves the doubters wrong, falls dramatically from grace, then redemption.
Interesting. Atherton is backing Root to make runs today. He's been watching him in the nets, and "he's been hitting the ball beautifully." He's tougher, Athers adds, than his angelic features might suggest.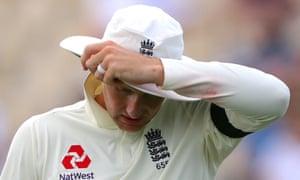 There's a christmas tree in the Sky studio. The mood in there is moderately dark. Mark Butcher says Joe Root, "has to go out and make a big one."
Out on the ground, Ian Ward and Mike Atherton are talking to Jos Buttler. Wardy admires Jos "beasting it" in the gym.
Athers asks how Joe Root is coping with the pressure,"You wouldn't know any different," says Buttler. "He manages himself very well. Cream always rises to the top, his batting form will come back, probably today."
Preamble
Hello fellow time-zones-surfers, and welcome to day three of the second and final Test against New Zealand. They're starting half an hour early today (9.30pm GMT, 10.30am NZST) in Hamilton, still making up for the grotty weather that truncated day one. New Zealand are whistling to the ground this morning, their bow ties perky, their trainers bouncy – two English wickets down with only 39 on the board.
All is not lost for England, but two of the newbies failed to endure a nasty final session of 21 overs yesterday evening. Unfortunate Dom Sibley, never the nimblest, was cuffed on the helmet and then on the box on the way to being bowled by a leg-stump half volley. Joe Denly prodded at a wobbler from Matt Henry and was well caught by BJ Watling behind the sticks.
The two men who will walk out this morning are Rory Burns, dropped twice yesterday, and Joe Root, suddenly under reams of news-print pressure over the captaincy. "We know we've got to go and bat 150 overs here to set up the game on day five," Stuart Broad said. "Our opportunity is there…Here we're not batting with a scoreboard of 500. They made 375. So, I think our pressure is reduced slightly and we just go and play."
If you're a batsman, you'd want to bat out there, wouldn't you?" he added helpfully. "If you were good at batting, you'd fancy that."
Let's see hey Stuart.
In other news, poor Jack Leach is still in hospital with gastroenteritis, .

Updated