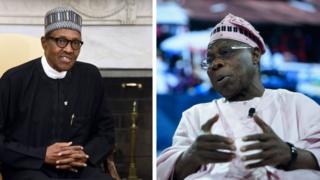 Aarẹ orilẹede Naijiria tẹlẹri, Olusegun Obasanjo ti ni orilẹede Naijiria n tọ ipasẹ iparun labẹ isejọba Aarẹ Muhammadu Buhari.
Ọbasanjọ, to sọ eyi lasiko ifọrọwanilẹnuwo pẹlu ile isẹ iroyin Premium Times ni, eto ọrọ aje orilẹede Naijiria ti dẹnu kọlẹ labẹ isejọba to wa lode.
Àwọn iròyin tì ẹ leè ní ìfẹ̀ síí:
O fikun wi pe, irọ patapata ni ijọba to wa lode yii n pa lori igbogun ti iwa ibajẹ ati ajẹbanu, nitori awọn ẹgbẹ alatako nikan ni ijọba n gbogun ti lori iwa ibajẹ.
Aarẹ orilẹede Naijria tẹlẹri naa ni, bi o tilẹ jẹ wi pe Aarẹ Buhari wọle fun saa keji, ko seese ki ọrọ aje Naijiria gbooro si, nitori nkan ko sẹnu ire lọwọlọwọ.
Ti a ko ba gbagbe, Atiku Abubakar to jẹ oludije fun ipo aarẹ labẹ ẹgbẹ oselu PDP ni Ọbasanjo se atilẹyin fun, ninu idibo gbogbo-gboo to waye lọdun 2019.