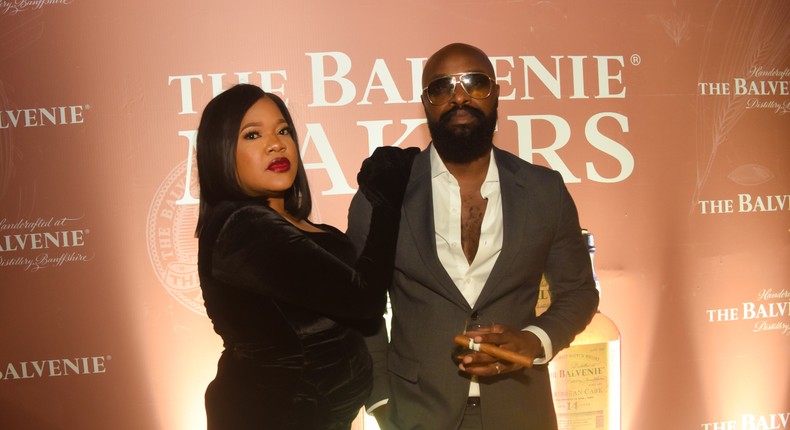 For over 60 years, The Balvenie has prided itself on incomparable craftsmanship, which has been developed through years, with impressionable innovation, detail and mastery. As a result of craftsmanship in itself, the single-malt whisky with luxuriously smooth, honey-textured flavor, has taken upon itself to raise a toast in celebration of dedicated craftsmen around the world.
To commemorate its attained feat, The Balvenie set out to honor "The Balvenie Makers Heart." This was borne as a tribute to passion and sheer dedication to mastery and craftsmanship.
'What is the Balvenie heart?', you might ask. The heart of the Balvenie is our uniqueness which lingers, resulting in something truly special. Our passions and expressions, stories passed down through generations, skills and artistic embodiments – perfected through sheer dedication. An embodiment of the Balvenie heart is a journey that begins with discovery, follows through with a leap and results in expertise; embracing the complexities 0f its journey to mastery.
Following a series of events highlighting The Balvenie' dedication to innovation and craftsmanship, this edition was devoted to exceptional Nollywood filmmakers who embody "The Balvenie Heart". For its recent project, The Balvenie collaborated with Nollywood's most exceptional filmmakers – Toyin Abraham, Charles Okpaleke and Kunle Afolayan to commemorate their dedication to the art, passion and skill of filmmaking in the Nigerian industry.
The Maiden Edition of The Balvenie's tribute to Nollywood's best talents took place on the 17th of December, 2022 in the city of Lagos. An exclusive collective of Nollywood's A-list actors, producers and filmmakers were treated to a classical evening at an intimate dinner . The night was one riveting with a burst of creativity and shared passion, as The Makers gathered in a round table discussion to share their individual insights and unique journey to mastering the craft of Filmmaking.
Due to its enormous success, The Balvenie followed through with another edition to tell the tale of The Balvenie Makers, this time, at the capital city , Abuja.
The Balvenie hosted patrons to an opulent cocktail and dining experience, filled with riveting performances and insightful discussions at the open-air rooftop of Rhapsody's – an affluent restaurant located in the heart of Wuse 2, Abuja. Shyne Band stunned the eminent guests with an impeccable set of soulful life-band performances, as they kept sipping on The Balvenie's 12-year-old infused cocktails.
Bashiru Amuneni, a poet and spoken word artist serenaded The Balvenie Makers with a poem titled "A lunatic In A Town" — an ode to Nollywood's industry disruptors. The interactive performance was well received by cheering guests, who chorused the catchphrase back in response.
The highlight of the evening was probably the round-table conversation where the makers shared impactful insights into the creative processes that characterizes their Balvenie Spirit.
Toyin Abraham — one of Nollywood's eminent, indigenous actor and filmmaker, took guests through her journey of becoming A Balvenie Maker and how she managed to set her brand apart in the Yoruba movie industry.
Peaking her career as part of the first Yoruba filmmakers to produce indigenous, satirical blockbusters, which launched in Cinemas across Nigeria. Toyin prides herself as one, who rose from receiving stipends for assisting on movie-set, to receiving accolades for creating high-budget movies; Her 23 years of doggedness, passion and dedication to creativity in Nollywood is proof of all it takes to hone The Balvenie Spirit.
Award winning Movie Producer and CEO of The Play Management group — Charles Okpaleke in his conversation on becoming A Balvenie Maker prides himself as a businessman who took calculated risks and delved into Nollywood, launching a brand which spiraled into one of the most successful contemporary Nollywood franchises.
As one who is keen on taking history and refurbishing it into Contemporary masterpieces, with a discerning eye for detail. Charles has not failed to utilize the power of the nostalgia that comes with remaking some of Nollywood's greatest classics into a contemporary blockbuster.
Considered one of the most distinguished producers in Nigeria, Kunle Afolayan, has dominated the Nigerian film business as an actor, director, producer, and writer for over two decades. Known as the master craftsman behind many recent high-resolution, Indigenous and contemporary Nigerian films which has gained multiple international recognition and awards, Kunle is one of the most influential figures, spearheading Nollywood's positive reputation. Every production from his stables has been a blend of uniqueness, mastery and pure creativity, which is an embodiment of 'The Balvenie Heart'.
The binding factor of each maker is their shared creativity, the burning passion for their art, dedication to mastery and a universal drive for success. All shared values which brought them together, under one roof to partake in a night of insightful conversations to celebrate The Balvenie Hearts in us all.
#FeaturedPost #FeatureByBalvenieMakersProject