Otti stated that the money saved from frivolous spending by past administrations has made it possible for his govt to pay salaries and pensions as at when due.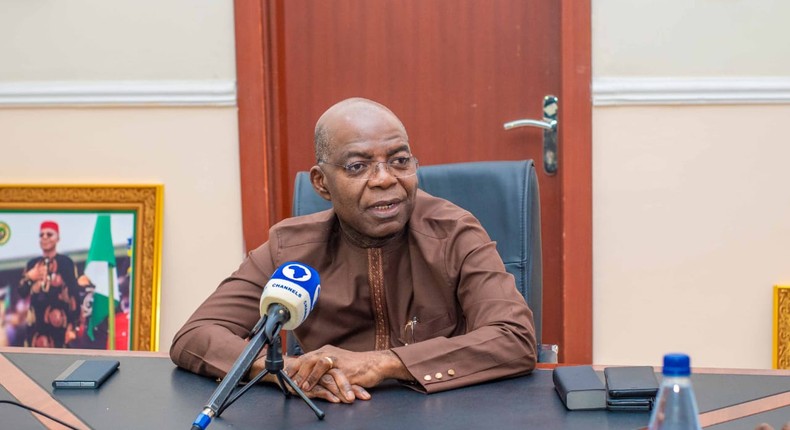 Gov Alex Otti of Abia has said that his administration initiated measures to cut down the cost of governance to the barest minimum and save money.
Otti said this at his monthly media interactive session held at the Government House, Umuahia on Sunday night.
He said that money saved from frivolous spending by past administrations had made it possible for his government to pay salaries and pensions as and when due and also mobilise contractors to site for the ongoing major developmental projects.
The governor said that cutting down the cost of governance remained a necessity for achieving enhanced development and economic stability in the state.
"We have been able to save money from FAAC by stopping frivolous expenses such as paying a certain amount of money to 'stakeholders'.
"In the new Abia, if you want to get money, then you have to work and earn money," he said.
Otti said that the present administration was focused on financial reengineering to ensure that the resources of the state were properly handled by professionals for best results. He assured the people that their money is in safe hands.
He further said that the government under his watch had not taken any loan for the execution of projects in Abia. According to him, the government was circumspect about borrowing because of the outstanding ₦192 billion loan it inherited from the Okezie Ikpeazu-led administration.
Otti said that the government would certainly borrow at the appropriate time to finance the gigantic projects it had started. He said that already the government had initiated discussions with some financial institutions for such facilities.
"It is not wrong to borrow to finance capital projects that would develop the state and not for frivolous spending"
"Contractors have been mobilised to site with the money saved from discontinuing frivolous expenses introduced by past administrations.
"A lot of things have changed and I urge everyone to wake up and be part of the change," Otti added.
He restated the government's commitment to rebuild the state, especially Aba, in order to improve its internally generated revenue to the state coffers.
"We want to fix the most important commercial and industrial hub, which is Aba, and when you fix Aba, it will generate funds.
"This is because ours is a government that understands the cost of governance, how the economy works, the velocity of money and does not spend frivolously and share money," Otti stated.
On Local Government Area (LGA) administration, he said that acting chairmen were presently administering the 17 LGAs. He further said that Transition Committee Chairmen would be appointed to run the councils, pending the local government elections.
He promised that the government would not relent in ensuring prompt payment of salaries and pensions. The governor also spoke on the alleged cases of some workers being underpaid, saying that government did not have any policy on shortchanging civil servants.
He, therefore, urged workers with issues bordering on salaries and pensions to write to the acting Head of Service and relevant agencies for redress. Otti said that the decision to conduct the verification of workers and pensioners was informed by the need to ascertain the actual number of people on the state government's payroll.
He said that the exercise had yielded positive results. On education, he said that government was focused on improving the education system and standard in the state.
"We want to get to building public schools that would have laboratory, conducive learning environment and staff quarters, among other amenities.
"When we are done, then any private school that wants to stay in business will have to upgrade their school to the standard that has been created in public schools," Otti added.
He expressed profound gratitude to Abia people for their "massive support to my administration" and promised that he would not betray their trust in him.